Hungarian rune and translation pics now fixed. Translation included.
Please PM me with any other relevant facts you have as I don't always have time to read through all posts.
EDIT: saving theories only. Ignore text.
Work in progress. Working on flushing out connections.
Credit: Original pictures and deciphering by former SHF member: Mary Kinstler
Hungarian Runes:

Halo of the Sun Translation: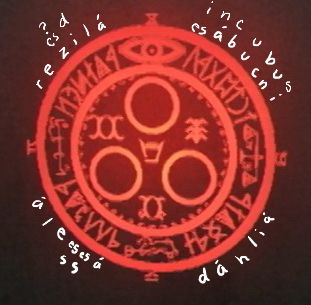 An explanation for all other runic symbols can be found here: Credit: AlexAff @ DeviantArt
http://alexaff.deviantart.com/art/Halo-of-The-Sun-Info-72841157
The results deciphered obtain four words (and their variations):
I'm only using the source material and not speculating outside of it. (Eg: Alizer = Alessa....errm no.)
1 Dhalia
2 Alessa
3 Incubus (inverted) (aka Heather)
4 Azriel (Inverted Anagram aka Azrael)
CITATION: Currently a theory. Working on many texts (very supportive) to clarify.
4. A hidden anagram.
Like Samael, Azriel is an angel of death, though they are opposing in what they serve.
This makes perfect sense. Dahlia refers to Samael repeatedly, but Alessa'a "good self" (Cheryl) is capable of changing the host and her destiny..
Why so well hidden? Azriel was hidden from the cult in very much the same way Cheryl was hidden from the cult.
Description Samael is LONG. Can be found in links provided.
Samael symbols:
Represents: War and Power
Element: Fire
Planet: Mars
Astrological sign: Scorpio (Aries in some texts too)
Symbol: Sword with poisoned tip
Olympic Spirit:
Phaleg
Azriel (Azrael): The angel of death in both Islamic and Hebrew legends, he is said to have four-thousand wings, and has an eye and tongue for every human in the world. Whenever one of his eyes blink, someone has just died. Azrael also carries with him a large book that he is forever writing and erasing in. In it, he writes the names of those just born, and erases the names of those who have just died. No doubt doing just that keeps him busy. Azrael has no knowledge before-hand of who is going to die and when, however he learns of this as a leaf carrying the name of doomed falls from a tree at the throne of God. He then knows he is to pay a visit to the person named forty days later.
Represents: Crossing over to the spirit world./Clearing blocks in your spiritual pathway / Bereavement
Element: Water
Planet: Venus (Pluto in some texts)
Astrological sign: Libra
IMPORTANT CONNECTION - Libra's symbol found in the Halo
Though the majority of sources have pointed to Libra, one or two strangely note Scorpio as Azriel's sign)
Symbol: Book
Angels of Death and Aziel info from
http://www.angelfire.com/electronic/myPlace/angels.html
Folks on this here site reckon they can channel
Metatron
.
I'm not kidding
...
http://www.anewbelief.com/Angels/azrael.htm
More Samael info found here:
http://www.whiterosesgarden.com/Nature_of_Evil/fallen_angels/FAngels_S/samael.htm
What we have here is the world's most screwed up Family Tree:
Dahlia + Alessa/Cheryl = Incubus/ Heather + AZRIEL (aka Azrael)

The 3 Angels of death now come together in Silent Hill:
One of the greatest known, and feared of all the angels, he is also known as the Grim Reaper, as well as various other names. In the Jewish incarnation he been called Bebriel, [b]Metatron
,
Samael
(or Sammael), Adriel, and
Azrael
(who is the bringer of death in the Islamic Qu'ran), Hemah.
He is sometimes mistaken for being one of the fallen angels, however, he is in fact a servant of God who has been given the task of ending the lives of certain individuals at their appointed times, and to guide them to their place in either Heaven or Hell (though christians often tend to associate this task with the Archangel,Michael). He is often described as being quite disspassionate and unregretfull about his about his work.
One of the ways he sometimes appears is as a great angel at the head of a dying victim. Death then brings his sword to the dying's lips a drips a drop of poison into their mouth, at which point, it's all over for the victim. This could also be where he gets the name "Samael" from, as "Sam" is the Hebrew word for "Poison". In Jewish literature he is often depicted as appearing as a bird with twelve wings, and during the Middle Ages (a time when the Black Death ran rampant) he took up the image of the Grim Reaper, with artists painting an image of a sickle or scythe wielding skeleton, and, occasionally, Death is said to appear as a woman.