i'm new to the forum, and as i now live in Japan as an English i havbe plenty of time on my hands. This meant to spending alot of time at my cpu desk doing nothing and with this time i thought i'd get back into the world of silent hill and rekindle my love of discussing theories with like minded followers of the series.
I don't know how many of you have played silent hill arcade, if you have you would also agree with me that your very suprised. I read about the game over the internet and forums, people were comparing it to "house of the dead" and other light gun games. It is the same in the sense its a light gun game, but the experience is very different. The game far surpasses any exspectations a fan would have, because i'm sure like me you were cynical and doubted how any sh game could be put on the arcade.
This game is no where near the experience of the games to have graced the consoles and the arcade game is not as scary as there is really no psycological fear there, but its not as fast paced as other light gun games and the enemys look incredible with the graphics sublime. It is different to other sh games (obviously) but it is also different o light gun games, the pace is slower and the enemies and few and far between which adds to the atmosphere, ph looks amazing, the only problem i have is that it seems to take mre from the movie then the games in terms of look and feel. I really, really believe this is the best light gun game in the arcades.
if anyone has any questions about the game, chracters, enemies etc. please reply and ill do my best to answer, only got to the first ph on the boat, which is about 40 minutes into the game, the people i was with didnt want to hang around, but going osaka again shortly il have another go. People who havent played the game shouldnt criticise at all.
here are a couple of pictures i took while waiting.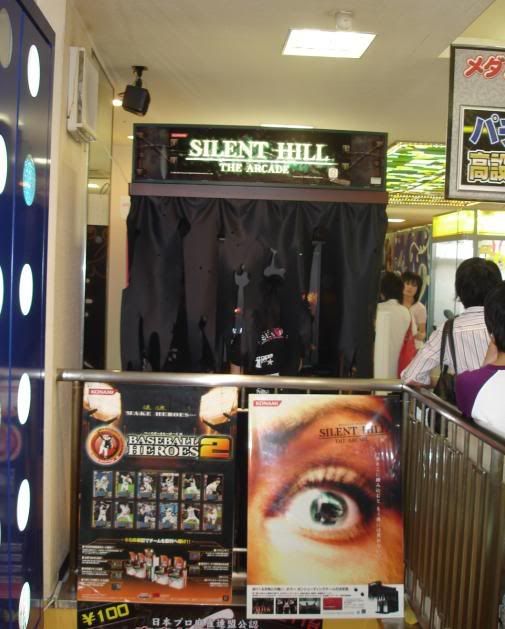 [/img]