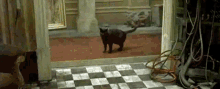 Subtle changes can make a significant difference.
A sad thing for those who appreciate visual artforms and the language and techniques employed in film, paintings etc. is to see casual dismissal of changes as being irrelevant.
I'm starting this thread in the hopes of trying to explain how and why certain changes being made are not insignificant, almost to the point that similar scenes despite having the same beats and dialogue, can in fact be very different and convey different meanings in how they are acted and depicted visually.
Note:
I will leave the question about whether or not the changes are better or worse up to everyone's own subjective judgment. I will not be critiquing whether the changes are good or bad, only that they are different and that their differences are significant.
As a kind of overview of how the simplest things can change significantly based on how they are adapted, please take a look at the following.
1. First 15 seconds of dialogue from this Sears Air Conditioner Commercial
https://www.youtube.com/watch?v=4rqZZgVxnCk
2. Four dramatic reinterpretations of that 90s sears air conditioner commercial by ProZD channel
https://www.youtube.com/watch?v=lxrCyqXzHI8
As you can see from the second video, the exact same lines of dialogue, when depicted and acted out can vary greatly depending on the style, direction, and character context.
A similar thing is evident in the trailer for Silent Hill 2 Remake.
There is nothing inherently wrong in remakes adapting and changing things based on a new direction. Music performances of classical pieces, for example, can be scored based on how closely they match the original composition as it is intended to be played, but are also scored based on the player's own interpretation of the piece, about which parts they choose to emphasize or slow down or speed up based on their own creativity. You can't lose points for playing the sheet music exactly as it was meant to be played, but the creative version can be either a hit or a miss that could cost you points. Nonetheless, people in the audience can still enjoy your rendition all the same, and it is sometimes possible to improve on a piece by playing it a different way.
So too, the director of SH2 Remake may choose to add in or interpret scenes differently. It is possible that these turn our better or worse. The fact that they have access to new technology not available to the original game's staff does mean there are forms of expression possible to them that were not possible before, and these can either be used to translate the original faithfully, or improve upon it, or radically alter the scene.
Technological superiority, does not automatically result in a better product. Sometimes the limited expression of older technology can force the creators to use more straightforward and obvious visual cues that better direct a scene, whereas the inclusion of more articulation and expression, while opening up the possibility for greater depth can shift away from what worked more simplistically.
As an example you can check out comparisons between the original Disney Lion King 2D animated movie and the CG remake.
https://www.youtube.com/watch?v=btNL1q-yU7E
The SH2R trailer provides us with a scene from the opening of SH2 that is long enough to merit comparison and dissection. And it may be fun to compare things as we go along and see more things until the game's release when we can finally do a more thorough examination, that undoubtedly other YT channels etc. will examine in greater detail than I can here on a forum thread.
IGN also has a comparison video here that will come in handy and that I'll try and reference as we go.
https://www.youtube.com/watch?v=fbZC2HrT_JY
Also the Making-Of Silent HIll 2 has good info on what the staff had in mind.
https://www.youtube.com/watch?v=E1VKvED76WQ
1. James
I don't have any issues with James' new character model. Old James and new James do have obvious differences, where the new one looks skinnier and more chiseled. Likely the changes are to better capture the performance of the new actor. Which by itself is fine, though new James arguably has a more rugged and handsome quality. The stubble on new James is a difference to the old more clean-shaven looking James. The differences could all be down to technological limitations of two eras, where maybe the designer may have added in more details if it were easier, but we don't know. We only know that visually we may perceive the two James differently.
Usually an unclean, less shaven face may indicate a character who in unkempt, or stressed out, conclusions an observer naturally draws judging by appearances. The stubble on new James' face does match the performance of the new James who is acting out of breath and less calm than old James, so the appearance does fit the scene that is being played out of a more visually anxious, trembling, stressed out James.
The two characters first appearances and impressions are different as are the context of the scenes.
In the original, our first glance of James is someone calmly examining themselves in a mirror. The more defined shadow cast over the eyes is classic visual shorthand for someone hiding themselves, whose motives are unknown. The next motion of the character's hand over their face as they seem to wipe their face somewhat oddly, which struck some fans to interpret the scene as similar to "putting on a mask." The expression may have been the best they could do with the old mo-cap suits, but we know that this scene also had Sato hand-animating the CG cutscenes, so the gesture and finger articulation is more deliberately hand crafted.
In the Remake, our first impression seems to be James busting in through the door, he is noisy, breathing heavily, his movements are more hurried and fast paced. He's trembling, and trying to calm down. The lighting on his face in the mirror is similar to the original, his eyes hidden, but the lighting is more realistic and not as hard lit so there is a more emphasized tenderness to his eyes. Instead of covering his face with his hand, his fingers lightly touch his cheek.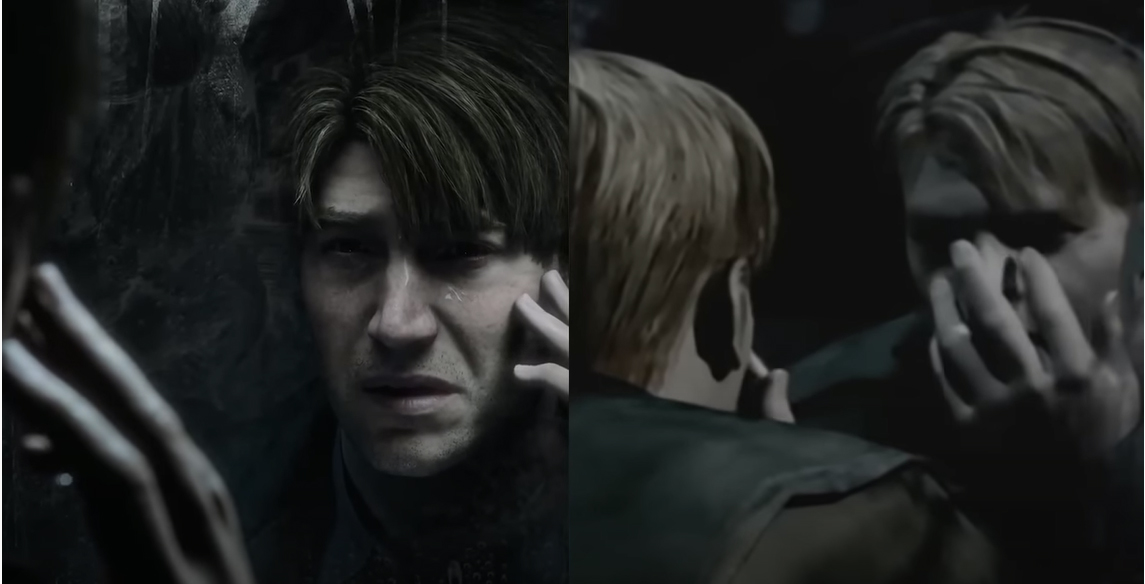 Given we already know the story of SH2, the context of both these similar scenes is markedly different:
Original:
James is already suffering from a delusion, like a traumatic victim who is inhabiting a different reality already. The letter from his dead wife is a mystery to him, but he is not panicking, only puzzled and wonderous, which is why he is there in Silent Hill and overlooking Toluca Lake. He is rationally telling himself that it is not possible for a dead person to write him a letter.
Remake:
The James in the remake evokes a more sympathetic portrayal. The letter has him shook. He's running on adrenaline and almost looks afraid and is trying to calm down. This James is still in the process of reaching the stage where the original James is when we first encounter him. His guilt is probably still weighing on his mind, he is likely still in the transitional phase towards being completely caught up in the amnesiac delusion.
2. Toluca Lake overpass
Then there is the outdoor scene where both of them exit the bathroom for the first time.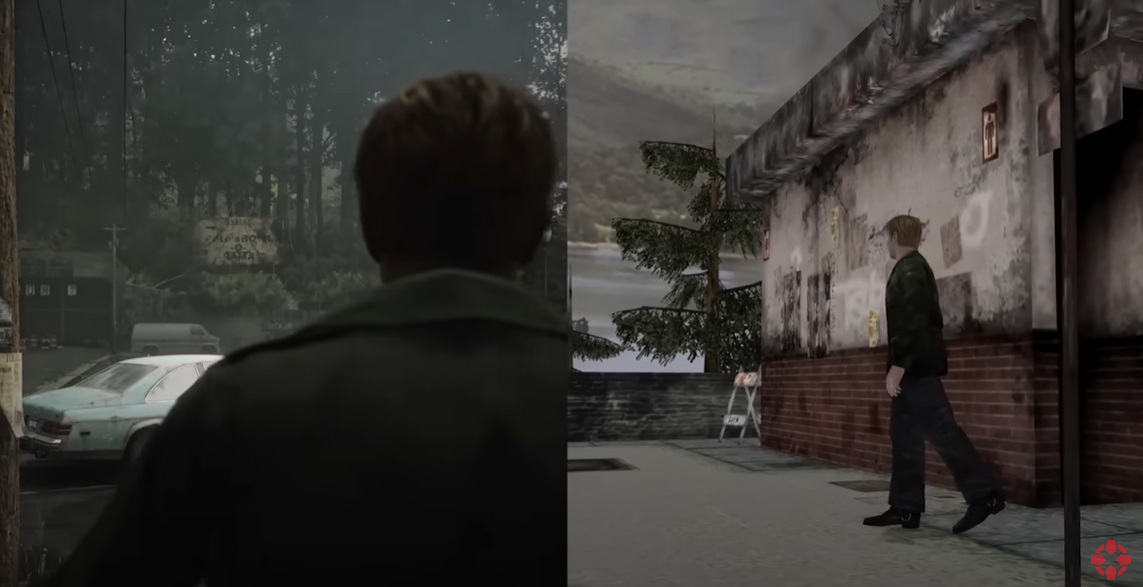 In the Original, the first thing we see is the view of the lake, it is a still, calm, serene lakeside. The slow panning camera lets you take in the vista. Likely due to technical limitations, the vegetation is still, but this scenery does add to the more 'stable' mind of James, where he is firmly set in his delusion. This then leads into the long trek down where this intentional long walk was to make it feel such that you have gone on for so long that you don't desire to turn back. The long trek also serves to build tension.
In the remake, the first thing we see is the parking lot and the trees beyond it, the scene is noticeably windy, vegetation is moving. Paper signs on posts are flapping rapidly. The environment is more shaken and stirring, matching the new portrayal of James whose own emotions are shaking and shifty. Windy weather scenes and blowing vegetation are more indicative of stormy conditions, so it is a different type of foreshadowing when intentionally used to establish a foreboding mood of things to come. Tension has already been established visually through both James' mannerisms and the environment before the long trek down.
This is all we have to go on so far, but already, straight from the opening scenes, the visual language and direction between the original SH2 and the Remake is markedly different. The establishing moments for James character is different. As are the establishing shots of Toluca Lake for the first time.
The remake's direction and visual language are all far more tense and foreboding than the dream-like intro of the original game. It would help to have the Remake scene in its entirety to truly judge it, but so far the trailer itself does have enough to draw a rational interpretation.
Undoubtedly the Remake will have access to a greater range of cinematographic techniques, so I expect there will be a lot of new liberties taken to change what we see first etc. left up to the director. This is aided by the fact that the PS5's greater asset streaming allows for quick seamless transitions from going indoors to opening a door and stepping out into a new outdoor level, versus the PS2 where transitions between prerendered CG and real-time scenes is more broken up with different cuts.
I wouldn't jump the gun and assume anything we've seen is final, as there seem to be some scenes, such as Laura just standing in front of the hospital doors that obviously seems like just a static shot for trailer purposes that would otherwise be awkward.
There seems to be a greater emphasis on weather conditions in the remake, more emphasis on windy conditions with blowing leaves, and also noticeably heavy rainfall in various scenes, so Bloober is definitely deliberately making scenes more overdramatic visually through the environment. The wind seems okay in the foggier sections that I think of them as a good enhancement. As for the more rainy scenes, I think run the risk of detracting from what should be an unnatural darkness, and I hope Bloober is not interpreting the darkness moments for overcast skies or rainy weather. There are moments in the game where it is dripping and rainy, but there wasn't any pouring weather. But I guess we'll see in context.
Anyway, these were just my thoughts on the opening scenes that we've seen so far. You can like the new version over the old, as there is nothing inherently wrong in reinterpreting an old work, but the fact remains that even these slight changes have altered the impression they make such that this is now acting as more than just a face-lift.